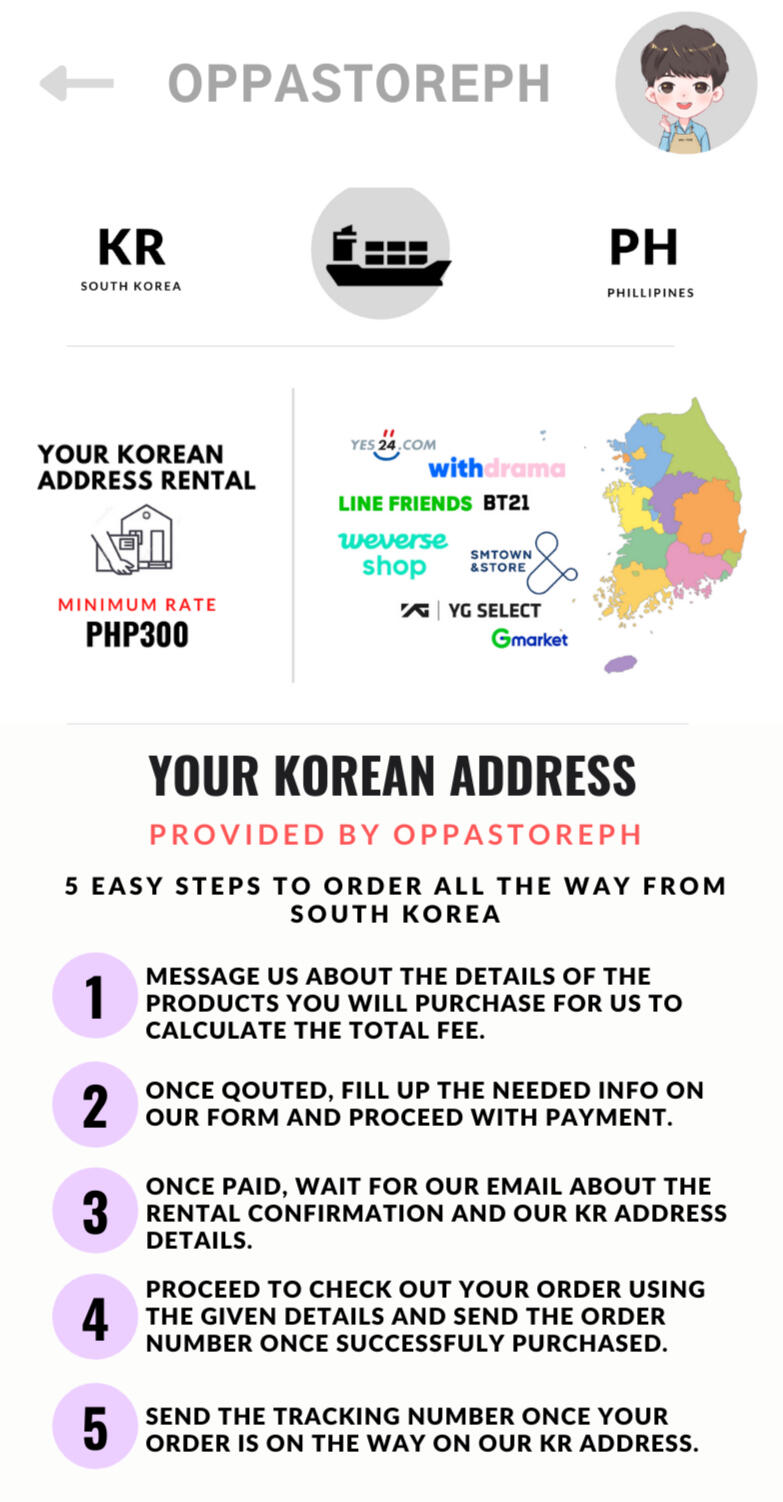 NOTE: RENTAL FEE IS INCLUSIVE OF INTERNATIONAL SHIPPING FEE FROM KR - PH ALREADY.

SHIPPED TO PH VIA CARGO 3-4 WEEKS ARRIVAL**
---
---
DO'S
Do prior research before purchasing on a korean website, for some requires Korean ID or Membership that we can't provide.

Do finalize your orders before you ask for qoute. The total fee you'll be needing to pay will depends on the item and quantity.

Do follow the instructions and input the details correctly to avoid delivery confllicts.

Do send the tracking number once your order has been shipped out, if we don't have your tracking number, we can't check weather we receive your package or no.

Do inform us if you have any other request such as opening or product testing to make sure if such item work properly specially for electronic items. It is our customers right to decide weather to have the package checked or no and we'll be only doing it so by request.

Do know that we can't provide return and exchange on the korean shop where you order once the item arrives in PH already, so if you want to make sure, we'll be willing to check your packages before shipment to PH.
DON'TS
Don't hesitate to contact us if you have any questions regarding your order.

Don't be impatient for delivery takes time, we asure that your package willl arrive in PH and advice you if there are any delays.

Dont use our details without prior notice, your rental fee is one time use only and shall pay another fee for new items you wish to order. We reserve the right to not ship the package to PH if we receive any package that did not follow the right procedure for address rental.

Dont share or use our details such as Korean Number or Address on any other purpose than our service. We reserve the right to terminate the current transaction if any of our info is used beyond it's purpose. Your package won't be shipped and you won't be allowed to use our services again.